Silver Armour (Vendi Kavacha) Samarpan
Silver Armour (VENDI KAVACHAM) TO SREE RANGA NAYAKA SWAMY OF SREE RANGA PURAM….PEBBAIR MANDAL…MAHBUBNAGAR DIST..TELANGANA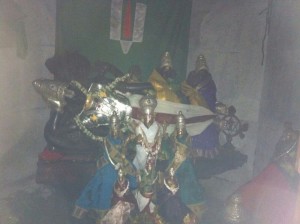 Saptha prakara madhye sarasija mukloth bhasamane vimane,

Kaveri Madhya dese phanipathi sayane, sesha paryanga bhage,

Nidhra mudhrabhiramam katinikatasira parswavinyastha hastham,

Padmadhathree karabhyam parichithacharanam  Rangarajam Bhajeham.
I salute that Lord of Ranga, Who sleeps in the yogic pose, On the bed of Adhisesha, Below the tall dome**, Which resembles a lotus bud , And is surrounded by seven ramparts, And which is in between two Kaveri rivers, With his right hand near his crown, And his lotus like merciful left hand, Pointing towards his feet which take care of us all.
Team Sree Datta Vaibhavam is again on its way out to do seva programme. It is a privilage and great honour given to the team to offer silver armour (VENDI KAVACHAM) to The Lord Ranganayaka. Going into the details…..
It is believed that worshipping a SWAYAMBHOO RANGANAYAKA SWAMY (self manifested) is equal to Worshipping all Gods and Goddesses at once.. In other words SAKALA DEVATHA POOJA. Such a great God Ranganayaka swamy's temple is located in a place called Sreerangapuram, Pebbair mandal of Mahbubnagar dist in Telangana state.
It so happened that one of our team members happened to visit the temple very recently and while praying, the temple authority called him from the group of all devotees and took him inside the main temple. There the priest showed our member the original idol of Ranganayaka Swamy and asked if he is interested  in serving the diety by offering the silver armour which can be worn by the lord from his neck to the naval point.
Immediately the job was taken up as an order by the lord himself and as a blessing and a boon and the message was passed on to all the team members. All the team members plunged into action and started mobilising the funds from kith and kin, making them also a part of the service programme. Now the KAVACHA is ready for samarpan to swamy on 31.08.2014.
ALL OF US AS HUMANS DONATE FOOD,CLOTHES ,MONEY TO THE NEEDY AT SOME POINT OF TIME.  BUT DONATING TO THE SWAYAMBHOO RANGANAYAKA IS AN EXPERIENCE IN ITSELF. SERVICE TO THE LORD IN A TEMPLE MULTIPLIES OUR PUNYA(good karma) IN MULTI FOLD.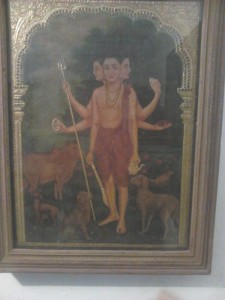 Jitante pundarikaksha purnashadgunya vigraha

Parananda parabrahman namaste paramatmane