One more real incident in the life of one devotee-Datta's divine showers
WOW!!! -Successful Surgery with the blessings of Datta Maharaj…."Avascular Necrosis"  in two hip joints..
Mr. Bharat is a resident of Kushaiguda  in Hyderabad and working in a Private company. Now he is in 30s. At his age of 10 years , he heard the powerful nama "DATTA". Since then his urge to  Datta has been incrementing minutely, every day. In the year 2000, he had a great fortune to visit Sri Kshetra Gangapur. This is the turning point in his life.  He purchased Guru Charitra book there and immediately after coming back to home, he commenced the parayana.   Since then he never looked back in his life.   He is the only child to his parents.  one day when he was in   anushthanam, he had a glare of a girl's face in his dhyana.  He has mentally conceived something is erroneous on that day and ceased his  dhyana, japa and left to office. After reaching office, he received a courier with a girl's photo and this is precisely the same girl's face which he optically discerned that morning during his anushthana. Then he  conceived that  it's Datta Maharaj's order for him to get espoused to that girl and  immediately concurred. So, what is the belief of this man now? Whatever transpired in his  life is only because of Datta Maharaj's anugraha.
Here started ……
In the year 2016,  he noticed severe joint pains in his hips.  Finally, he came to know that, he is the victim of  "Avascular Necrosis" decease  in his hip joints at such an adolescent age.
He approached his  uncle who's an Ortho/Neuro surgeon,  Dr. Jonnalagadda Satya Prasad garu. He's the author who translated Sripada Srivallabha Charitamrutam from Telugu to English. After the medical investigation,  Medico suggested for an immediate surgery. He was shocked to  his situation, but   immediately he recollected 'Datta'  in his  mind and verbalized "you gifted me this life and you're leading me every second of this life, this life is not mine…. it's yours. So whatever physically or mentally,  I've to go through it's all because of my karmas which will be taken care by you. So, why should I worry and what for?" (This is his internal prayer at that situation)
| | |
| --- | --- |
| | |
On 24th September, 2016, he  got operated for his  left hip and the surgery was about 5 hours.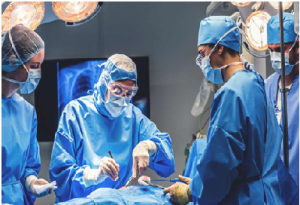 There were thoroughly 5 medicos and 2 surgical auxiliaries in the operation theatre. They commenced verbalizing something in the commencement but eventually  he could only heedfully auricularly discern his  voice and Doctor's  voice verbalizing/sharing their  experiences with Dattaguru.  The operation was done so facilely without any pain at all.
He recuperated salubrious in a very short period and the time has come for his right hip surgery in  April, 2017. This was a little critical and the surgery took more than 6 hours. Again the same medicos ….but  this time his experience was much different. He could visually perceived Shreeguru Nrusimha Saraswati Swamy Maharaj  standing adjacent to him  in the operation theatre for the entire period of his surgery. So, the result is marvelous. It's a result of VISHWAS on Shreeguru. Super success of surgery. He took bed rest for 3 months. He went to Srikshetra Ganagapur to arpan his "Hrudaya Bhavana". Now, he is attending his regular duties and going to office regularly without any pain.
His feelings are shared in his following words.
"Every day, every minute and every second he is showing  his "nidarshanam" and always stays with me and this all is transpiring only because I believe him to illimitability of my life. He's our saviour, god, mother, father, brother, sister, friend, guru and what not? Since last 10 years  he  authorized me to bring many of his devotees to Ganagapur to have his darshan.  He's the ultimate supreme. I whole heartedly once again verbally express "Dattaguru… thanks for gifting me this life to recite your name, to have your darshan and to bring maximum devotees to your kshetra". Understanding Datta and serving him requires a pure dedicated devotion which I am seing  in few people like my father, our solicitor Sri Shiva Kumar Goud, my uncle Dr. J. Satya Prasad and 'Sreedattavaibhavam' group admin and a great service oriented person Sri Sreedhar and many more to name as well, because the list is huge so I refrained to limited".
 || Avadhoota Chintana Sri Guru Deva Datta Swamy Maharaj ki Jai ||