Datta Anugraha
Samuhika Datta stava parayana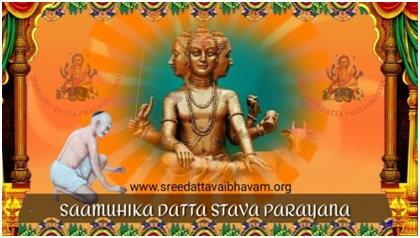 Team Sree datta vaibhavam has decided to organize "SAMUHIKA DATTA STAVA PARAYANA".  Interested devotees have to recite the Stotra for a minimum of 9 times per day at their respective homes. Devotees have to inform their weekly count on every Saturday by a message to whats app number 9246463846. This programme will be up to Vijayadasami i.e., upto 20.10.2018. Devotees can recite even more number of times as per their convenience.
(1) For Stotra in English, Telugu, Hindi and Tamil languages….click the following link
http://www.sreedattavaibhavam.org/datta-stotra-lahari/
(2) For video on datta stava…click on the following link….
https://www.youtube.com/watch?v=vdGWoejp_WQ&t=159s
Saamuhika Datta stava parayana …Jaya laabhaadikara Datta stavam….Very powerful stotram in Dattatreya sampradaya…..
WE ARE HAPPY TO INFORM THAT THE TOTAL COUNT OF RECITATION BY OUR GROUP MEMBERS FOR THIS WEEK (07.10.2018 to 13.10.2018) IS 8,190 times. If any member wants to start from this week also can start the parayana. Our pranams to the following devotees for their dedicated devotion who  recited maximum during this week….
Sri K.B Anantha Shastry….1650 times

Sri Mallikarjuna Rao…..1071 times

Sri K S S Murthy…..630 times
we are giving weekly progress of recitation number ……
(1) 05.08.2018 to 11.08.2018- 7036 times
(2) 12.8.2018 to 18.8.2018-9028 times.
(3) 19.8.2018 to 25.08.2018….8344 times.
(4) 26.08.2018 to 02.09.2018…10,221 times.
(5) 3.09.2018 to 8.09.2018 -8,186 times.
(6)09.09.2018 to 15.09.2018 – 10,185 times.
(7)16.09.2018 to 22.09.2018 – 8,885 times
(8) 23.09.2018 to 29.09.2018 – 8,228 times
(9) 30.09.2018 to 06.10.2018 – 8,301 times
(10) 07.10.2018 to 13.10.2018 – 8,190 times
Significance of Datta Stavam
Datta Stavam is a very popular and important stotra of Lord Dattatreya.
P.P.Sri Vasudevananda Saraswati Swamy  was instrumental in the spread of this great Mantra.
It says in it that Datta can be realized just by remembering him by constantly repeating the small yet powerful Dattastava.  Abhisheka, Alankara are not needed for Datta. Dattaguru is so easy to be pleased. Datta yearns to help the unassisted and troubled. He removes all dangers and difficulties. He protects you wherever you are.  Be it a forest, mountain or river. He is Vishva Rupi (Universal). He knows the secrets of the Dharma Shaastras. He gives protection to the needy. He removes the passions and shackles of family. He is the source of true Ananda (Bliss). Datta gives peace of mind to those in distress. From time immemorial, Datta has been worshipped.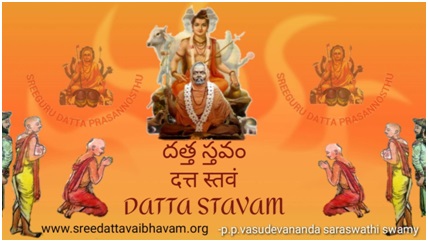 The last stanza in the Datta Stava says about the merit of chanting Datta Stava(Jaya labha yashah kaama …). It means that by chanting Datta Stava, one gets victory, gain, Success, name & fame and fulfillment of desires. Whoever chant 9 times every day for 40days, their desires will be definitely fulfilled with the blessings of Lord Dattatreya. It is 100% true and seen in many more families. Even today the devotees who are residing in foreign countries are also continuously doing this stotra and getting boons from Dattaguru.This Stava has saved many lives too. People who were in dire financial straits or health conditions have prayed to Lord Dattatreya with this simple verse. Make it a habit to chant the Datta Stava in your prayer and before taking food.By doing so, you will be blessed by the Guru both in the material and spiritual progress. There are two different forms of Deities. Anugraha Rupam(Blessing form) and Ugra rupam(Aggressive form). But Dattatreya is a special kind of deity and goes beyond these two forms as Guru tatwa Rupam. He blesses in the form of Guru, Teaches spirituality, provides material comforts and also protects aggressively his devotees in Ugra rupam.
Increase the group count by increasing the recitation and by joining new members in the programme. Take the opportunity and have the blessings of Lord Dattatreya…
AVDHOOTHA CHINTHANA SREE GURUDEVA DATTA